my harmony face serum
The Serum Mi Harmony is a jewel of facial care formulated with 100% natural ingredients. It is a toxic-free cosmetic without silicone or parabens as well as vegan.
100% natural face serum
Thanks to the knowledge that my family has given me, I have been able to create My Harmony, 100% natural cosmetics. Here is the history of the Serum.
100% natural face serum
Thanks to the knowledge that my family has given me, I have been able to create My Harmony, 100% natural cosmetics. Here is the history of the Serum.
my harmony serum benefits
Thanks to the composition that we have created of the Serum with completely natural elements, we can ensure that they have benefits both for the skin and for emotions and general well-being.
It leaves you radiant, regenerated and smooth skin. It also improves bags, dark circles and expression lines, in addition to reviving luminosity. Finally, it leaves the mind appeased and in harmony and it is anti-stress.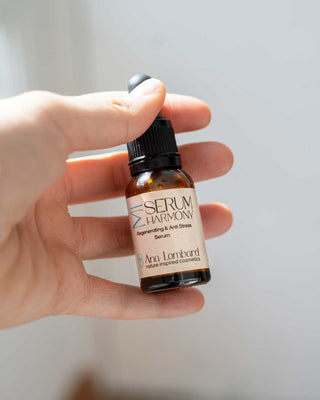 100% natural serum
Boost your Beauty and Well-being in 15 days with the Mi Harmony Facial Serum.
Apply morning and night to enhance your skin's luminosity, reduce dark circles and wrinkles, and protect it from external aggressions.
Enjoy the synergy of 7 essential and vegetable oils, which also offers emotional benefits: reduces anxiety and increases self-esteem! Take advantage of our natural formula and feel the difference in your skin and well-being.
Buy now and discover your best version with Mi Harmony!
"Apply your serum to the face, neck and décolleté, morning and night, and rediscover your radiant, smooth and regenerated skin. With natural, vegan, organic ingredients, of sustainable origin and not tested on animals. For all skin types."
descubre más sobre el sérum facial 100% natural
¿Te preocupa la salud y el aspecto de tu piel? ¿Buscas mejorar la calidad de tu rutina de cuidado facial y obtener resultados óptimos? Si es así, intégrate al mundo de los sérums naturales de Mi Harmony. Estos Sérums revolucionarán tu cuidado facial, ofreciendo una forma sencilla y efectiva de cuidar tu piel en profundidad.
En Mi Harmony, disponemos Sérum Facial Natural que se adapta a todo tipo de pieles y a tus necesidades específicas. Está formulado para ser hidratante con tu piel de forma ecológica y respetuoso con el medio ambiente.
¿Por qué deberías optar por un sérum natural? 
La piel de tu rostro es delicada y está constantemente expuesta a factores externos. Es crucial protegerla y brindarle el cuidado adecuado. Los sérums ecológicos de Mi Harmony se convierten en tu mejor aliado, ofreciendo resultados visibles desde la primera aplicación.
La clave de estos sérums radica en su alta concentración de ingredientes activos, penetrando profundamente en la piel de manera más efectiva que las cremas hidratantes convencionales debido a su gran capacidad de absorción.
El momento ideal para aplicar estos sérums es después de limpiar el rostro y antes de la hidratación habitual, es decir, habitualmente la aplicación será por la mañana antes de salir de casa y por la noche antes de acostarte. La piel debe estar libre de impurezas para una máxima efectividad del producto. Una pequeña cantidad es suficiente debido a su alta eficacia. Recomendamos 5 gotas en la cara y 5 gotas en el cuello y escote en cada aplicación.
Además, los sérums hidratantes naturales de Mi Harmony están elaborados con ingredientes naturales y libres de químicos, siendo aptos para todo tipo de piel, incluso las más sensibles. Además de veganos ya que no se utilizan ingredientes de origen animal ni hacemos test de productos con animales.
Además de la aplicación del Sérum Facial Natural, en Mi Harmony también tenemos el Contorno de Ojos para completar tu cuidado facial con este Roll-On para aplicarlo de forma sencilla y cómoda y cuidar tus bolsas y ojeras.
Compra el Sérum Facial Hidratante Natural en Mí Harmony
Es esencial para combatir los signos del envejecimiento como arrugas, falta de luminosidad y tonalidad. Estos sérums son un excelente tratamiento antiedad que marcará la diferencia.
En Mi Harmony, te ofrecemos sérums naturales de la más alta calidad a precios competitivos, adaptados a tus necesidades y garantizando resultados efectivos desde el primer uso. Simplifica tu rutina de cuidado facial, elige tu sérum natural y recíbelo cómodamente en casa, ¡nosotros nos encargamos del resto! Cuidar tu piel nunca ha sido tan accesible y efectivo como con Mi Harmony.